Project GIG (Get In Gear)
CFS Project GIG (Get In Gear) is set up to respond to the employment crisis created by the pandemic and the fast changing labor market. CFS is committed to helping unemployed workers from low-wage jobs, particularly  our older seniors who have been disproportionately affected by the Pandemic, want to come back to work in better jobs—jobs that are viable based on experience rather than academic qualifications. These include jobs that act as gateways to further career opportunities for them.
Chong Chung Lan (June)
June, aged 61, is no stranger to hardship, having had to confront numerous setbacks and challenges for much of life, especially in recent years. She lost her beloved husband in February this year, and continues to care for her 40 year-old son, who suffers from a mental disability. She also had to deal with a sudden loss of employment after 18 years working at a hospital.
But still she fights on. Through the assistance of Centre for Seniors, she currently works with Diversey as a packer, helping put together care packs comprising hand sanitizers, face masks, and wet wipes. She supplements her income with a further part-time role at a MOS Burger outlet. This has allowed her to support herself and family, amid these very trying circumstances. June's story is testimony of resilience over despair, of positivity over self-pity, and of love over all else. Let us bring some much-deserved happiness and hope into her life with our generous support. She is a role model to us all.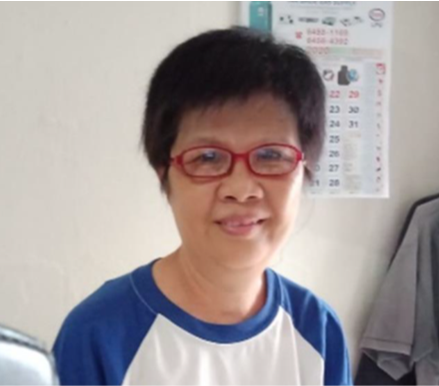 It will not be easy—our senior workers face a unique set of challenges. Going back to their prior jobs may not be an option, as a large number of the jobs lost in the pandemic are lost permanently.